Wind and Solar Energy companies work under increasingly complex and competitive conditions dealing with the uncertainties of technologies and investments. We can guide them to lower energy costs, reduce risk and explore innovative and customised solutions. We support in all technical, commercial, regulatory, contracting aspects of wind and solar energy project. A strength of GoWind-n-Sun is the ability to combine strategic, financial and technical advice as an "Integrated Consulting".

We advise on all technical, commercial and regulatory aspects of wind and solar energy projects in India to identifying profitable project opportunities. We accurately assess project risk by understanding major market drivers, performance benchmarking and project finance.
Owner's Engineer
As an owner's engineer or representative, we will ensure to optimise returns on your investment. Our techno-commercial expertise will help to reaching your goals. We can support you in following areas- Lender reviews and supplier offer reviews, Negotiation support, Contract checks for Solar PV or Wind Turbine supply, O&M, Engineering, Construction Monitoring, Performance Reviews etc.
Lender's Engineer
We are capable to advise lenders on various technical matters: Energy yield independent review of solar and wind power plant and Balance of Plant, Suitability assessment, Grid connection assessments, Evaluation of suppliers / contractors, Permitting / environmental review, Review of project contracts, Financial model review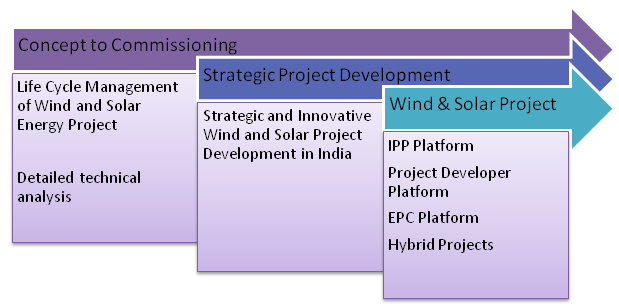 Technical Due Diligence of Technology and Project
We conduct technology due diligence and its site suitability analysis. We benchmark various available technologies and advise the investors to choose the best technology and optimisation. We recommend the appropriate blend of technologies for best utilisation of resources.
Technical Consulting service from Concept to Commissioning to Asset Management
We deploy our experienced engineers at your projects to ensure long-term health of physical project assets and to reduce equipment downtime, identifying under-performing assets, investigating underlying causes, and implementing solutions and innovations to optimize power curve performance and maximize energy capture.
Advise on Project Sale and Acquisition
Complete Techno-commercial due diligence of wind and solar assets
Energy Trading: Arrangement of Corporate/Third Party PPA
Arrange Corporate Third Party Power Purchase Agreements for Wind and Solar Energy
Support for Wind and Solar Energy Tariff based Competitive Bids
Support in Wind and Solar Tariff Bidding / Auctions
Our team has a strong experience in whole process of wind and solar auctions, market information, competition analysis, which can help you to find out the winning tariff.
Support in Type Certification and MNRE-RLMM Certification
In India, wind turbine manufacturer must enlist the wind turbine model/s in the Ministry of New and Renewable Energy (MNRE). MNRE has mandated to publish the RLMM list of wind turbine. Our team has a strong experience of the technical requirements and procedure of RLMM listing.
Statutory requirements for setting up wind and solar projects
There are different permitting processes for setting up of wind and solar energy among Indian provinces. These processes are set by State Governments, State Nodal Agencies, State Power Distribution Companies and Transmission Companies, Land related Revenue departments. We guide our clients in a systematic way in getting various government permits.
Customised Technical Support in Wind and Solar Energy
Every investor / project developer face different situations while planing the project and related investment. Our expertise is unique and we can understand the issue and find a right solution to resolve the same.